This is the 1925 Motor Show car with body by Jarvis of Wimbledon.
Made by Bamford & Martin Ltd of Kensington. The Motor of October 1925 described the car as "the most beautiful small car of the show". The price for a touring car was 825€ in 1925 compared to an Austin 7, 149€. It has a side valve engine of 1486cc with a single SU carburettor. The engine had a non-detachable head with screw caps over each valve for valve replacement. Transmission is via multi-plate dutch plus dutch stop and 4-speed gearbox. The gearbox was inspired by Ettore Bugatti's gearbox. Lionel Martin, co-founder of the Bamford and Martin company, drove a Brescia Bugatti. One of the first marques with four-wheel brakes as standard, the front brakes are operated by the foot pedal, while the rear pair actuated by the handbrake.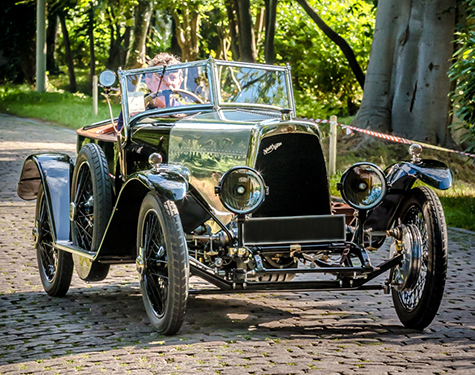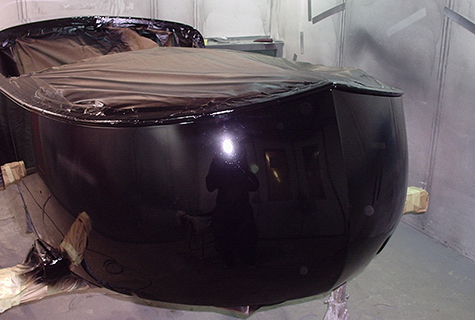 These early Aston Martin's established the reputation of being one of the fastest standard touring light cars or "voiturettes" on the road and track. Built to a very high standard indeed which lead to their bankruptcy in 1925, the receivers came shortly after chassis number 1966 was made. Chassis number 1970 was the last of the Bamford cars ever build before the company became Renwick and Bertelli, the start of a new era.
One of two cars with this 'boat-tall' body shape, it has been restored with much of the wood-work being original. The bonnet of this car is much longer than usual and gives access to pedals and dashboard.
Among the many owners was Fred Ellis (side valve guru) as well as Richard Stallebrass, who was the 'driver' behind the reformation of the Aston Martin Owners Club in 1948 but losing his life soon after in the Spa 24-hour race; a trophy is awarded in his memory, annually, by the club.
This restoration was started by Anthony Harper soon after purchase in 1972 and completed by the present owner in the last few years.